Lunar calendar of the gardener and gardener at 2023 year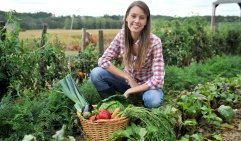 The lunar seeding calendar of the gardener at 2023 year will help determine the day of the most favorable planting, which will ensure the best yield of this variety on your land. For successful work of gardeners and truck farmers on a site it is better to adhere to the rhythm set by the Moon - not to touch certain plant species, when they are most susceptible to any damage, or, conversely, actively engage in certain types of work to improve the future harvest. The lunar calendar will allow you to recognize the phases of the moon and properly organize your work by selecting the most favorable lunar day.
Carrying out work and planting plants in accordance with the lunar calendar, we use the rhythms of nature itself and therefore get the most optimal results. But do not forget that any work should be performed not only according to the calendar of the gardener, but also taking into account the climatic and weather conditions of your locality, and the readiness of your soil for crops. City New York.