Lunar horoscope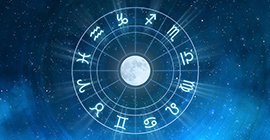 A lunar horoscope is a map compiled at the time when the transit moon returns to the position it occupied at the moment of the birth of the person (native). Lunar return is repeated approximately every 27 days and 8 hours - this is the sidereal cycle of the Moon. This horoscope is calculated using the coordinates of the place in which the person was or plans to be. In the case of moving and finding at this time in another locality, it is necessary to recalculate the lunar for new coordinates.
The lunar horoscope is a kind of matrix that preserves the tendencies laid at the time of the lunar return, during the coming lunar month.
Select the date, time and place birth:
7 house of the lunar v 10 home of the natal horoscope
May mean the beginning of a career related to public or social activities, work with people. The month is favorable for open, consultative activity, advocacy practice. Promotion of a person is very dependent on his participation in public events or work in government structures. Also from the influence of the spouse, the conclusion of any contracts. With unfavorable factors at home - the struggle for power with opponents or partners, litigation, unsustainable situation, confusion of affairs. Open confrontation with the boss and the authorities, rejection of each other's positions. Relations with partners, the possibility of strengthening communication are very important for a person this month. The partner will dominate the person, command them. When confirmed by other indicators, it may indicate the month of marriage, especially in the women's card. Then marriage is seen as an achievement of a life goal and gives the woman a certain social position.
7 house of the lunar in the homes of the natal horoscope
Comments: