Lunar horoscope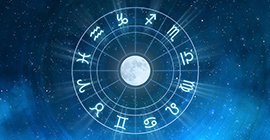 A lunar horoscope is a map compiled at the time when the transit moon returns to the position it occupied at the moment of the birth of the person (native). Lunar return is repeated approximately every 27 days and 8 hours - this is the sidereal cycle of the Moon. This horoscope is calculated using the coordinates of the place in which the person was or plans to be. In the case of moving and finding at this time in another locality, it is necessary to recalculate the lunar for new coordinates.
The lunar horoscope is a kind of matrix that preserves the tendencies laid at the time of the lunar return, during the coming lunar month.
Select the date, time and place birth:
7 house of the lunar v 6 home of the natal horoscope
Disease or danger to the spouse, other partners of the person. Getting them into a subordinate, dependent position, getting into debts, obligations. Litigation with subordinates, employees, service personnel or with other persons on the basis of production dislocations. With negative indicators of the home, the possibility of participation in public activities or the popularity of a person is reduced due to illness, accident, trouble. Increased workload in production, work part-time. The professional affairs of the spouse can provide the person with additional opportunities. Sometimes it can indicate the addition of offspring in pets.
7 house of the lunar in the homes of the natal horoscope
Comments: