Lunar horoscope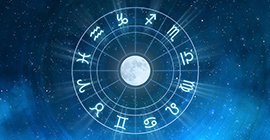 A lunar horoscope is a map compiled at the time when the transit moon returns to the position it occupied at the moment of the birth of the person (native). Lunar return is repeated approximately every 27 days and 8 hours - this is the sidereal cycle of the Moon. This horoscope is calculated using the coordinates of the place in which the person was or plans to be. In the case of moving and finding at this time in another locality, it is necessary to recalculate the lunar for new coordinates.
The lunar horoscope is a kind of matrix that preserves the tendencies laid at the time of the lunar return, during the coming lunar month.
Select the date, time and place birth:
7 house of the lunar v 2 home of the natal horoscope
Money, the level of the provision of a partner plays an important role for a person. Possible life at the expense of partner money, on the maintenance. The partner assists in earning livelihood. The level of human security is influenced by its public popularity, recognition by the public. Expenses for advertising, popularization, image formation. Conclusion of a certain agreement, signing a contract, entering into a contractual relationship will change the financial position of a person. In which direction, will the aspects of the planets in the house show. The same changes can bring various petitions, appeals to official instances, as well as interference of the spouse in human affairs.
7 house of the lunar in the homes of the natal horoscope
Comments: