Lunar horoscope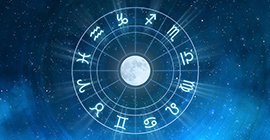 A lunar horoscope is a map compiled at the time when the transit moon returns to the position it occupied at the moment of the birth of the person (native). Lunar return is repeated approximately every 27 days and 8 hours - this is the sidereal cycle of the Moon. This horoscope is calculated using the coordinates of the place in which the person was or plans to be. In the case of moving and finding at this time in another locality, it is necessary to recalculate the lunar for new coordinates.
The lunar horoscope is a kind of matrix that preserves the tendencies laid at the time of the lunar return, during the coming lunar month.
Select the date, time and place birth:
7 house of the lunar v 3 home of the natal horoscope
A month of active communication, correspondence, travel for meetings with different people, including business partners or spouses. Relations with this group of people bring anxiety, a state of nervousness. Signing of some agreement, perhaps, labor, if the 6th house of the lunar also occupies a significant part of the 3rd natal house. Report on the decision to cooperate with a person. Perhaps, on the part of younger relatives, neighbors, representatives of a close circle, friends, classmates. Entering into business relations or correspondence with the spouse. Receiving news, news from the spouse or about him, about his affairs. With a certain damage to the house - a confrontation with a close environment, younger relatives, friends, problems of relationships with them. The need to travel to resolve a conflict. Trips in public affairs. A month is favorable for the popularization of ideas or human activities, advertising, training. If the indicators of the house are severely affected, litigation with neighbors, friends, relatives is possible.
7 house of the lunar in the homes of the natal horoscope
Comments: