Lunar horoscope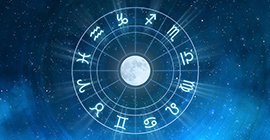 A lunar horoscope is a map compiled at the time when the transit moon returns to the position it occupied at the moment of the birth of the person (native). Lunar return is repeated approximately every 27 days and 8 hours - this is the sidereal cycle of the Moon. This horoscope is calculated using the coordinates of the place in which the person was or plans to be. In the case of moving and finding at this time in another locality, it is necessary to recalculate the lunar for new coordinates.
The lunar horoscope is a kind of matrix that preserves the tendencies laid at the time of the lunar return, during the coming lunar month.
Select the date, time and place birth:
7 house of the lunar v 12 home of the natal horoscope
A spouse or other human partners bring grief, disappointment, trouble. Or getting a spouse into an unpleasant situation. Hospitalization, a danger to the health of the spouse, according to some sources - pregnancy. Perhaps the emergence of a secret connection or withholding from the spouse, partners some information. But the betrayal on the part of the spouse is more likely. Intentional misleading of the person himself by his ill-wishers, opponents. Perfidy, deception, actions behind the back of a person. If there is such an opportunity in the radix - joining the occult group or spouse - on a mystical or spiritual path. A month is unfavorable for public life, full of problems with the environment. You should not get married, make various agreements, go out to the general public.
7 house of the lunar in the homes of the natal horoscope
Comments: