Lunar horoscope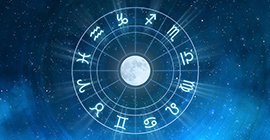 A lunar horoscope is a map compiled at the time when the transit moon returns to the position it occupied at the moment of the birth of the person (native). Lunar return is repeated approximately every 27 days and 8 hours - this is the sidereal cycle of the Moon. This horoscope is calculated using the coordinates of the place in which the person was or plans to be. In the case of moving and finding at this time in another locality, it is necessary to recalculate the lunar for new coordinates.
The lunar horoscope is a kind of matrix that preserves the tendencies laid at the time of the lunar return, during the coming lunar month.
Select the date, time and place birth:
7 house of the lunar v 11 home of the natal horoscope
Entering into friendly relations with business partners or, conversely, in a cooperative relationship with friends. Participation in wedding celebrations of friends. For certain indicators, it may indicate the appearance of a friend from the spouse. If this friend is of the opposite sex, adultery is possible. In general, the situation is dangerous for marriage. Sometimes, with the confirmation of other factors of the lunar and the methods of prognosis - the birth of a child. Often points to a change in the style of communication with friends: closer or parting, uncertainty. In general, there are many friends, associates, like-minded people, admirers of human talents, who help in matters that promote progress, popularity, and the acquisition of useful links. Uncertainty of the situation in the society, increased conflict, misunderstanding in a friendly environment - when the elements of the house are damaged.
7 house of the lunar in the homes of the natal horoscope
Comments: