Lunar horoscope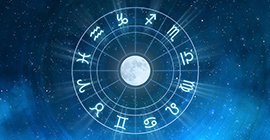 A lunar horoscope is a map compiled at the time when the transit moon returns to the position it occupied at the moment of the birth of the person (native). Lunar return is repeated approximately every 27 days and 8 hours - this is the sidereal cycle of the Moon. This horoscope is calculated using the coordinates of the place in which the person was or plans to be. In the case of moving and finding at this time in another locality, it is necessary to recalculate the lunar for new coordinates.
The lunar horoscope is a kind of matrix that preserves the tendencies laid at the time of the lunar return, during the coming lunar month.
Select the date, time and place birth:
7 house of the lunar v 9 home of the natal horoscope
Various, personal and business relations with foreigners and foreign organizations, contracts with joint ventures or on their creation. Can also mean travel or long trips of partners or spouse and their participation in foreign business. Entering the international market thanks to the spouse or business partners. Sometimes it indicates the gaining popularity abroad. Scientific, literary, religious cooperation abroad. In relation to the spouse may indicate the receipt or graduation of the institution of higher learning, for the development of skills, teaching, propaganda, literary or religious activities. If confirmed by other indicators, you can indicate the conclusion of marriage with a foreigner or at least an inhabitant of another city. Also on trials with people from afar. If the house is inactive, these are, as a rule, ideological disputes, disagreements with partners, the division of the sphere of influence and the possibility of realizing the prospects.
7 house of the lunar in the homes of the natal horoscope
Comments: