Lunar horoscope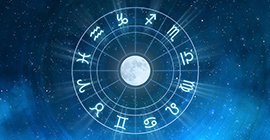 A lunar horoscope is a map compiled at the time when the transit moon returns to the position it occupied at the moment of the birth of the person (native). Lunar return is repeated approximately every 27 days and 8 hours - this is the sidereal cycle of the Moon. This horoscope is calculated using the coordinates of the place in which the person was or plans to be. In the case of moving and finding at this time in another locality, it is necessary to recalculate the lunar for new coordinates.
The lunar horoscope is a kind of matrix that preserves the tendencies laid at the time of the lunar return, during the coming lunar month.
Select the date, time and place birth:
7 house of the lunar v 5 home of the natal horoscope
Activization and legalization of love relationships. Perhaps entering into business cooperation with a lover or vice versa, entering into an affair with a business partner. When confirming the completeness of the processes for the 7th house - marriage for love or the ordering of a love affair. It can mean rivalry, activation of rivals. With confirmation from the 5th house of the lunar, the child's marriage. With the defeat of indicators - enmity with children, as well as with lovers. The month is favorable for contracts and cooperation in art, literature, creative activity, in sports and gambling, and also in financial transactions. Also for popularity, the acquisition of recognition for people of art, writers, scientists, secular lions. Popularity can also come from a spouse or other partners. With the defeat of the 7th house can point to an adventure that ends in the collapse of a career, to condemn society for the way of life of a person, love relationships.
7 house of the lunar in the homes of the natal horoscope
Comments: