The solar horoscope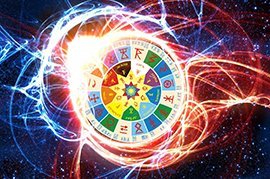 Solar's method allows to identify the potential of events that can occur to a person during his solar year. Similarly, if necessary, you can identify events that can not happen, and exclude them from further consideration. In fact, Solyar is a transit card fixed at the time of the Sun's return to its natal position, taking into account the coordinates of the locality where the person was (!) At that moment.
Select the date, time and place birth:
10 house of the solarium in 1 house of the natal horoscope
A very important year, when a person clearly becomes a vital goal, comes close to it. A lot of actions aimed at gaining reputation and respect from the authorities, career development, professional growth. The ambitiousness, authority of the person, but also his activity on the external plane, initiative, desire to rise above circumstances considerably increases. It is this year that a person gets the opportunity to direct his destiny in the desired direction. All actions serve the future. But, as a rule, special actions are not required - the circumstances themselves lead the person to choose the solution and the necessary actions. He gets patrons, protection, money. Some professional achievements in the chosen field of activity. Often means a new direction of development, the election of a new type of activity, the creation of an own enterprise.
10 house of the solarol in the homes of the natal horoscope
Comments: