The solar horoscope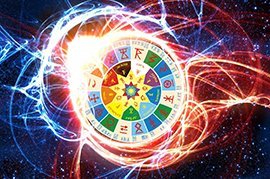 Solar's method allows to identify the potential of events that can occur to a person during his solar year. Similarly, if necessary, you can identify events that can not happen, and exclude them from further consideration. In fact, Solyar is a transit card fixed at the time of the Sun's return to its natal position, taking into account the coordinates of the locality where the person was (!) At that moment.
Select the date, time and place birth:
10 house of the solarium in 5 house of the natal horoscope
A year of some satisfaction in a loving relationship. With favorable indicators, it may indicate an engagement. Promotion thanks to the connections of a loved one or his position, as well as by gaining admirers or lovers. If you defeat the elements of the house points to events leading to the collapse of love affair, loss of reputation, sympathies and patrons. Successes through their own talents, hobbies. Successes in sports, gambling, financial transactions, winnings, in creativity and art. The emergence of followers, disciples, if a person sets such a goal. The year is favorable for artistic and pedagogical career. Can indicate a year, good for children. Their accomplishments and victories. The goal of the year can be the birth of a child. Whether this happens or not, you need to look at the positivity and position of the elements of the house. In general, the year can be dedicated to children, their upbringing and their affairs, the efforts for them, the search for patronage. Successes in secular life, and with the defeat of the house - a loss of reputation. With negative indicators of the solar horoscope as a whole - the collapse of all hopes and plans, obstacles due to love affair, lovers and admirers, scandals in society, the need to choose between love and life purpose.
10 house of the solarol in the homes of the natal horoscope
Comments: