The solar horoscope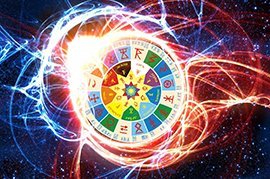 Solar's method allows to identify the potential of events that can occur to a person during his solar year. Similarly, if necessary, you can identify events that can not happen, and exclude them from further consideration. In fact, Solyar is a transit card fixed at the time of the Sun's return to its natal position, taking into account the coordinates of the locality where the person was (!) At that moment.
Select the date, time and place birth:
10 house of the solarium in 4 house of the natal horoscope
The satisfaction of certain property ambitions, the solution of the housing issue in one way or another, the long-awaited purchase of real estate or land holdings. The goal with respect to real estate or residence will be achieved. Penetration into the secrets of the genus, origin, interest in family traditions. Means also important accomplishments for the parents of a person or personally of the one to whom the fourth house in the horoscope of the person is attributed. In general, important events in the family that are important for today's state and position of the person. A difficult year, characterized, among other things, by a pause in career advancement. If the indicators are unfavorable, the home may indicate a year of retirement, retirement, a natural career ending or loss of position. But working at home or for the benefit of the family will help to achieve the goals set. A year of preparation for the big leap, a new twist in life.
10 house of the solarol in the homes of the natal horoscope
Comments: