The solar horoscope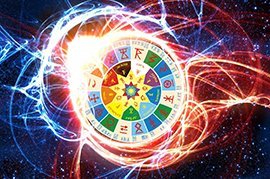 Solar's method allows to identify the potential of events that can occur to a person during his solar year. Similarly, if necessary, you can identify events that can not happen, and exclude them from further consideration. In fact, Solyar is a transit card fixed at the time of the Sun's return to its natal position, taking into account the coordinates of the locality where the person was (!) At that moment.
Select the date, time and place birth:
10 house of the solarium in 12 house of the natal horoscope
Secret accomplishments, work in solitude can be appreciated. Occult works, penetration into the mysteries of being. This can be seen as a current or global goal. Striving for solitude, a closed way of life, underground, and also detective activity. Successes in these things. A year is generally favorable for the secret and unmanifest. But we must remember that this year and the secret enemies of a man raise their heads. The growth of the subconscious, mental resilience, mental strength of man. When the elements of the house are damaged, it is a year of testing, testing for strength. Public position and career are exposed to dangers, at best - bring grief and disappointment. The possibility of betrayal, slander, scandals, enmity with the authorities, gossip and rumors. Difficulties in work, in finding a place. General dissatisfaction with fate, apathy, hypochondria. Excommunication from high office, impeachment. With positive indicators of the house - the exit from imprisonment of any kind (prison, hospital, captivity), victory over secret enemies.
10 house of the solarol in the homes of the natal horoscope
Comments: