The solar horoscope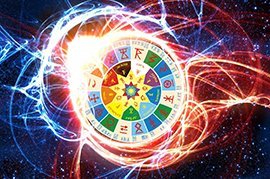 Solar's method allows to identify the potential of events that can occur to a person during his solar year. Similarly, if necessary, you can identify events that can not happen, and exclude them from further consideration. In fact, Solyar is a transit card fixed at the time of the Sun's return to its natal position, taking into account the coordinates of the locality where the person was (!) At that moment.
Select the date, time and place birth:
10 house of the solarium in 9 house of the natal horoscope
The impact of cases abroad, of foreign citizens and enterprises on a person is great. Also characteristic is feedback, - nomination through joint activities, thanks to influential foreign citizens or foreign capital. It can also mean the allocation of capital abroad, the beginning of a career abroad. Establishment of long-awaited ties with foreign countries. The year is favorable for teaching, pedagogical, scientific, literary, propaganda, missionary or patronage activities, for people involved in these areas. Intellectual efforts, spiritual development are of great importance for solving current problems and moving towards a life goal. If the house is not active, this provision emphasizes the importance for a person of ideological concepts, ideological and political, as well as religious issues. Mastering foreign languages, publishing works and works. Romantic motivations, generosity, charity. Can indicate the solution of important issues in travel, long trips or the need for such displacements.
10 house of the solarol in the homes of the natal horoscope
Comments: