The solar horoscope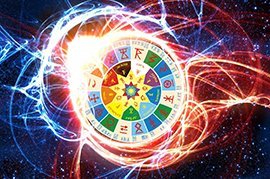 Solar's method allows to identify the potential of events that can occur to a person during his solar year. Similarly, if necessary, you can identify events that can not happen, and exclude them from further consideration. In fact, Solyar is a transit card fixed at the time of the Sun's return to its natal position, taking into account the coordinates of the locality where the person was (!) At that moment.
Select the date, time and place birth:
10 house of the solarium with 2 house of the natal horoscope
The desire to earn or to gain financial independence becomes one of the leading motives for a person this year. But he also wants to spend, that is, to make purchases. So, if the radix indicates a propensity or the possibility of accumulation, this possibility is given to a person just this year. Either way, money and property problems come to the fore. Perhaps a certain professional achievement, social activity or career advancement will contribute to improving the material base, gaining stability in life. If you defeat the elements of the house - on the contrary, the struggle for power, influence, position in society or in the service will require costs. Also, greed, stinginess, interest in someone else's wallet can develop.
10 house of the solarol in the homes of the natal horoscope
Comments: