The solar horoscope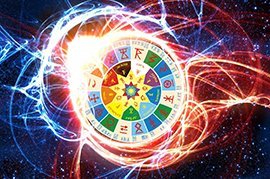 Solar's method allows to identify the potential of events that can occur to a person during his solar year. Similarly, if necessary, you can identify events that can not happen, and exclude them from further consideration. In fact, Solyar is a transit card fixed at the time of the Sun's return to its natal position, taking into account the coordinates of the locality where the person was (!) At that moment.
Select the date, time and place birth:
10 house of the solarium in 3 house of the natal horoscope
Professional development, promotion to a life goal, the occupation of a high post is promoted by mental activity, the acquisition of knowledge and skills, as well as mediation, journalistic or commercial activities, correspondence, negotiations, various contacts and useful links, brief trips, vanity. This can also contribute to close relatives, neighbors, friends. A person can be seen thanks to the mind and developed "banal" erudition, and is also recognized as useful for society. Has affairs with a lot of documents and other papers, with manuscripts. Means successes, accomplishments in the above activities. Sometimes he talks about the variability of life goals, the process of their formation this year. Can distinguish the successes of a brother (sister) or other relative. Many trips with specific purposes. It is possible to obtain a profitable proposal, to sign a contract, an agreement. The position of a person occupying a passive life position, this year depends on the actions of his close associates.
10 house of the solarol in the homes of the natal horoscope
Comments: