The solar horoscope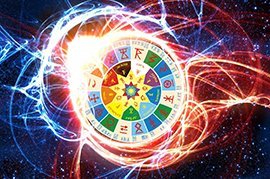 Solar's method allows to identify the potential of events that can occur to a person during his solar year. Similarly, if necessary, you can identify events that can not happen, and exclude them from further consideration. In fact, Solyar is a transit card fixed at the time of the Sun's return to its natal position, taking into account the coordinates of the locality where the person was (!) At that moment.
Select the date, time and place birth:
10 house of the solarium in 7 house of the natal horoscope
It often corresponds to the year of marriage, especially for women. Change in position, state due to this. If you defeat the indicators of the house - divorce, breaking ties, litigation, as well as lawsuits of a different nature. The position of a woman depends on the state of affairs of her husband. In other cases, it corresponds to successful contacts with the public, the conclusion of profitable contracts, the receipt of an interesting proposal. All this contributes to professional advancement, career growth, realization of vital and current tasks. The year is favorable for political career, popularity, but only thanks to public relations, openness to communication. The influence of other people, in particular business partners and spouse, on the person, his actions and the type of activity is growing.
10 house of the solarol in the homes of the natal horoscope
Comments: