The solar horoscope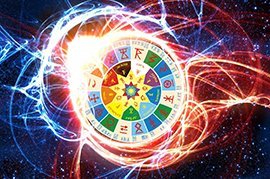 Solar's method allows to identify the potential of events that can occur to a person during his solar year. Similarly, if necessary, you can identify events that can not happen, and exclude them from further consideration. In fact, Solyar is a transit card fixed at the time of the Sun's return to its natal position, taking into account the coordinates of the locality where the person was (!) At that moment.
Select the date, time and place birth:
♄ Saturn in 1 home of a solar horoscope
Man experiences forced restrictions in his actions, which can be perceived by him as bad luck, the collapse of plans, an unfortunate coincidence of circumstances, many obstacles. Usually this year is remembered as one of the most "bad" in life. Characteristic state of depression, discomfort, deterioration of general well-being, not associated with a particular disease. But in conjunction with the Ascendant can indicate the occurrence of the disease according to the nature of the sign of the Zodiac. Often, the requirements for a person this year far exceed its capabilities, because of what it is perceived as not justified hopes. The need for solitude, pondering the steps. In this regard, the commission of a number of reckless acts. Figuratively speaking, this year in all his troubles a man is to blame solely for himself. Usually either precedes the year of a major fracture in life, or fixes a person on the situation achieved in the previous, turning-year. In the latter case, the person, as it were, pulls up the rear. Tense struggle for success. Disadvantage, a flaw in the affairs of the Radix house, in which Saturn fell. In the negative aspect - a person can be harmed, harmed in the area indicated by the natal house, into which Saturn fell. There may be injuries, isolation from society (voluntary, forced or violent), other troubles depending on the aspects.
♄ Saturn in the houses of the solar horoscope
Comments: