The solar horoscope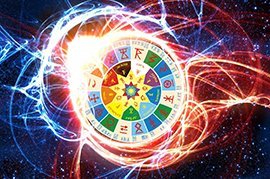 Solar's method allows to identify the potential of events that can occur to a person during his solar year. Similarly, if necessary, you can identify events that can not happen, and exclude them from further consideration. In fact, Solyar is a transit card fixed at the time of the Sun's return to its natal position, taking into account the coordinates of the locality where the person was (!) At that moment.
Select the date, time and place birth:
♄ Saturn in 11 home of a solar horoscope
Significant changes and disruptions in the plans of the person in relation to the sphere of life described by the natal house into which Saturn is projected, as well as in its aspects and in relation to the personalities of the planetary planets. But with a positive aspect - the persistent implementation of their plans and projects, which is still fraught with difficulties and delays. Deprivation of friendly sympathies, admirers. It's hard to get a reward, praise for your work or your actions. Loss of like-minded people. Parting with friends or fragile contact with them. The restriction in communication, voluntary solitude or forced loneliness, rather, of an internal character, is loneliness. A craving for people older in age or position as possible protectors. Difficulties in implementing its ideological platform, its implications, ideas. A person stands at a crossroads, often does not know who he is and what he is and what he should do. It is difficult to work out approaches to the implementation of the conceived, to find worthy means. The year is not favorable for an advertising campaign, gaining popularity. In the case of a negative aspect, this position is generally perceived as a permanent bad luck. In addition, it indicates a certain, almost innocent debility, the desire for pleasure, bohemian life. Propensity to change. Sometimes indicates the forced treason - by coincidence.
♄ Saturn in the houses of the solar horoscope
Comments: