The solar horoscope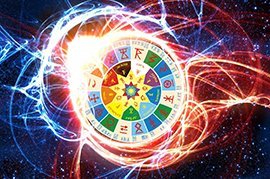 Solar's method allows to identify the potential of events that can occur to a person during his solar year. Similarly, if necessary, you can identify events that can not happen, and exclude them from further consideration. In fact, Solyar is a transit card fixed at the time of the Sun's return to its natal position, taking into account the coordinates of the locality where the person was (!) At that moment.
Select the date, time and place birth:
♄ Saturn in 3 home of a solar horoscope
The end of the correspondence or the end of communication of any kind, the severance of relations. Consolidation, continuation of the circle of communication acquired during the year, for a number of subsequent years. Difficulties in contacts. Problems in communication, with the expression of their thoughts and ideas. There may be learning difficulties. But more often, with a positive aspect, this position fixes a person on a certain cycle of training, gives firmness and perseverance in mastering knowledge. Discomfort contacts with elderly people and people senior in rank and position. Obtaining business papers from them. Care must be taken when traveling, traveling. In the negative aspect - the danger or failure for the brothers and sisters of man. Unpleasant situations in travel, forced delays, obstacles, risk of accident, if there are other confirmations. Rupture of business relations, contract, inability to reach an agreement. Delays in processing of documents. The position is unfavorable for journalistic, literary and intellectual activity.
♄ Saturn in the houses of the solar horoscope
Comments: