The solar horoscope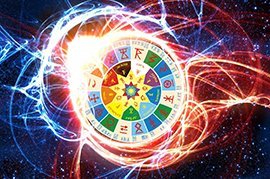 Solar's method allows to identify the potential of events that can occur to a person during his solar year. Similarly, if necessary, you can identify events that can not happen, and exclude them from further consideration. In fact, Solyar is a transit card fixed at the time of the Sun's return to its natal position, taking into account the coordinates of the locality where the person was (!) At that moment.
Select the date, time and place birth:
♄ Saturn with 2 home of a solar horoscope
Consolidation of the material base due to savings, denial of many things, purchases. Can indicate that a significant part of the costs of the person will take on an elderly person, boss or father. It can sometimes act as Jupiter in the 8th house - obtaining an inheritance, if there are other confirmations. Concerns and worries due to the level of material security, delays in the receipt of cash, income, wages. The year is unfavorable for the implementation of financial projects. Lack of creative energy, decline in work due to apathy, uncertainty, physical discomfort. Negative aspects of Saturn entail property and financial losses, unprofitable sale of real estate or shortfall in profits from leasing. A difficult, expensive solution to the issue of housing. Depression.
♄ Saturn in the houses of the solar horoscope
Comments: