The solar horoscope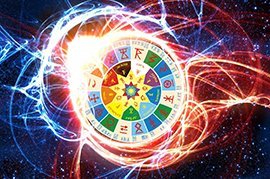 Solar's method allows to identify the potential of events that can occur to a person during his solar year. Similarly, if necessary, you can identify events that can not happen, and exclude them from further consideration. In fact, Solyar is a transit card fixed at the time of the Sun's return to its natal position, taking into account the coordinates of the locality where the person was (!) At that moment.
Select the date, time and place birth:
♄ Saturn in 8 home of a solar horoscope
Severe injuries, injuries, assassinations, falls, critical, life-threatening situations, accidents caused by the persons indicated by the houses of the planets-aspected Saturn, or the person himself, if Saturn was in the 1st natal house. In general, the year is remembered as one of the most unpleasant, tragic. Termination of sexual intercourse. In certain situations, it may indicate the deprivation of virginity and the onset of sexual activity. Deterioration of health. Perhaps death in a family or environment. Important events for one of the parents, a strong stress, breaking the habitual lifestyle. Indicates the undesirability of financial activity, the unsuccessful solution of all issues related to material values. Delays, obstacles, dissatisfaction with results, losses. Debt, anxiety, harassment. Decrease in income. Problems with audit and financial organizations, as well as law enforcement agencies. Perhaps detention. Vain expectations of inheritance. Negative aspects in general threaten the life of a person and increase all these troubles.
♄ Saturn in the houses of the solar horoscope
Comments: