The solar horoscope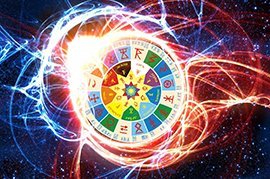 Solar's method allows to identify the potential of events that can occur to a person during his solar year. Similarly, if necessary, you can identify events that can not happen, and exclude them from further consideration. In fact, Solyar is a transit card fixed at the time of the Sun's return to its natal position, taking into account the coordinates of the locality where the person was (!) At that moment.
Select the date, time and place birth:
♄ Saturn in 6 home of a solar horoscope
This year, a person is inclined or forced to observe prudence, even fasting, to deny himself the pleasures. Heavy duties in the service, dissatisfaction with the work, dissatisfaction with the relations with the employees and subordinates, the desire to terminate the activity or to transfer to another job, position. The promotion, rank, promotion of the career this year is almost impossible, and if possible - with absolutely positive aspect of Saturn - is taking place with great difficulties, delays and complications. But the position is favorable for the career of a doctor, a trade enterprise, a service industry. Health deteriorates - the organs and systems affected by the sign of the Saturn's Zodiac are affected. Diseases can go to the chronic phase. In the last third of the house can also indicate some troubles with the pet, his illness, etc. A lot of worries and obligations that also affect the health. And recovery will require large expenses and hassle. Negative aspects of Saturn exacerbate these troubles, in general make the year very difficult, but also fresh, unremarkable.
♄ Saturn in the houses of the solar horoscope
Comments: