The solar horoscope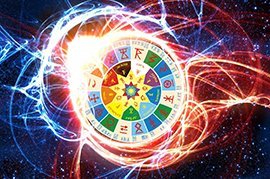 Solar's method allows to identify the potential of events that can occur to a person during his solar year. Similarly, if necessary, you can identify events that can not happen, and exclude them from further consideration. In fact, Solyar is a transit card fixed at the time of the Sun's return to its natal position, taking into account the coordinates of the locality where the person was (!) At that moment.
Select the date, time and place birth:
♄ Saturn in 7 home of a solar horoscope
The severance of relations of any kind, very palpable for a person, painful, memorable. Sometimes - with positive aspects - can mean the strengthening of some relationships, say, marital relations, but it still needs confirmation. The crisis in marriage. It could be the beginning of the divorce process. If a marriage is planned this year, it will be delayed or it will be necessary to overcome a number of difficulties. A year is hard for communicating with your spouse. Disorder in relations with business partners, strife, sharing of joint ownership. Professional affairs, especially those connected with public or social activities, speeches, consultations, are difficult. Conflicts, disagreements, unpopularity of a person. The year is unfavorable for a political career. Distancing from a wide range of communication. It is limited only to the closest people, for example, with a spouse, one of the partners. A man tries not to approach anyone. Sometimes isolation from the collective can be forced (expression of distrust, etc.). With the negative aspect of Saturn, the wedding will not take place at all. A person can get bogged down in conflicts and parting.
♄ Saturn in the houses of the solar horoscope
Comments: