Lunar horoscope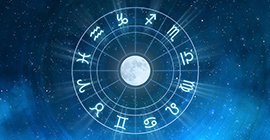 A lunar horoscope is a map compiled at the time when the transit moon returns to the position it occupied at the moment of the birth of the person (native). Lunar return is repeated approximately every 27 days and 8 hours - this is the sidereal cycle of the Moon. This horoscope is calculated using the coordinates of the place in which the person was or plans to be. In the case of moving and finding at this time in another locality, it is necessary to recalculate the lunar for new coordinates.
The lunar horoscope is a kind of matrix that preserves the tendencies laid at the time of the lunar return, during the coming lunar month.
Select the date, time and place birth:
12 house of the lunar v 9 home of the natal horoscope
Problems due to communication with foreign enterprises and organizations, individuals of foreign origin, everything related to foreign countries. Fears, grief, disappointment, interference of incomprehensible properties. Defective connections. Problems with the law, legislative bodies, arbitration court. If the house is not active, this position is given for a philosophical interpretation of the trials that have fallen to the lot. The possibility of seduction by false teachings, dependence on other people's views and authorities. Travel is undesirable, - can be accompanied by dangerous situations, unpleasant incidents, collision with local law enforcement agencies. Secret trips and secret connections away from home. The month is favorable for spiritual education, the formation of a worldview in solitude, for teaching occult disciplines, for literary activity away from the eyes of others. But the publication this month is impossible.
12 house of the lunar in the homes of the natal horoscope
Comments: