Lunar horoscope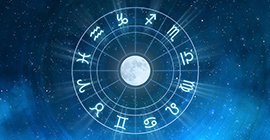 A lunar horoscope is a map compiled at the time when the transit moon returns to the position it occupied at the moment of the birth of the person (native). Lunar return is repeated approximately every 27 days and 8 hours - this is the sidereal cycle of the Moon. This horoscope is calculated using the coordinates of the place in which the person was or plans to be. In the case of moving and finding at this time in another locality, it is necessary to recalculate the lunar for new coordinates.
The lunar horoscope is a kind of matrix that preserves the tendencies laid at the time of the lunar return, during the coming lunar month.
Select the date, time and place birth:
12 house of the lunar v 7 home of the natal horoscope
Affliction due to a spouse, partners of a different kind, scandals, quarrels, a painful perception of everything related to the partnership. Usually indicates a more or less difficult parting, disappointment. In the easier case, mutual understanding with the spouse and partners worsens, the worries hidden from them worsen. Secret affairs of a spouse or partners. Can indicate infection with a serious illness with various contacts. Experiences due to social activities. Lack of popularity. Perhaps the month of the cessation of public activity, the end of a public career, a secluded way of life. A month is generally not favorable for broad communication, access to the public, connections with the masses, and also for conducting processes. Only contacts with secret activities, occult practices, as well as medical institutions and shipping enterprises are good. With negative indicators of the house - the secrets of a person come up and become the subject of discussion, accusations. In the case of a strong defeat at home can indicate the imprisonment, expulsion, forced emigration. The affairs of man in general are extremely confused.
12 house of the lunar in the homes of the natal horoscope
Comments: