Lunar horoscope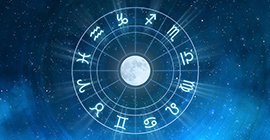 A lunar horoscope is a map compiled at the time when the transit moon returns to the position it occupied at the moment of the birth of the person (native). Lunar return is repeated approximately every 27 days and 8 hours - this is the sidereal cycle of the Moon. This horoscope is calculated using the coordinates of the place in which the person was or plans to be. In the case of moving and finding at this time in another locality, it is necessary to recalculate the lunar for new coordinates.
The lunar horoscope is a kind of matrix that preserves the tendencies laid at the time of the lunar return, during the coming lunar month.
Select the date, time and place birth:
12 house of the lunar v 12 home of the natal horoscope
Most often marks the month of the end of a certain life period (black strip) and the transition to a new development cycle. An involutive path is also possible if other indicators of the lunar horoscope confirm this. The ease of transition as such is determined not so much by the indicators of the map, as by the objective achievements of the past years, by the level of spiritual development. But depending on the directions of the house, the transition is accompanied by disappointments, heavy trials, losses, misunderstandings, or the person does not experience negative emotions, joyfully welcoming the changes. In some cases, the month is defined even as a month of significant energy growth, increased intuition, meditative abilities. From the height of past years, people subsequently evaluate it as a very important, critical stage. A person gets an opportunity to see the future and to assess the accumulated spiritual wealth impartially.
12 house of the lunar in the homes of the natal horoscope
Comments: