Lunar horoscope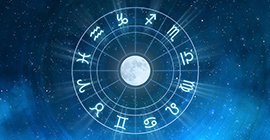 A lunar horoscope is a map compiled at the time when the transit moon returns to the position it occupied at the moment of the birth of the person (native). Lunar return is repeated approximately every 27 days and 8 hours - this is the sidereal cycle of the Moon. This horoscope is calculated using the coordinates of the place in which the person was or plans to be. In the case of moving and finding at this time in another locality, it is necessary to recalculate the lunar for new coordinates.
The lunar horoscope is a kind of matrix that preserves the tendencies laid at the time of the lunar return, during the coming lunar month.
Select the date, time and place birth:
12 house of the lunar v 4 home of the natal horoscope
Troubles, grief and disappointment associated with the place of residence, property and household problems, family relations, parents, deterioration of their health. Fears, psychological discomfort due to these things. The secrets of origin, genealogy, family traditions, events that have long happened in the family are revealed. The oppressive situation in the house. Home can become secret enemies. Severe situations in which a generic curse is possible. Finding a secret family, the second house. This month it is better not to start any business related to real estate - purchase, exchange, etc. But the need for expensive repairs may become urgent. Deterioration of health, apathy, hypochondria, lack of mental strength. Can mean a return from places of detention, hospitalization, from emigration, voluntary solitude. Also, house reclamation, house arrest, deepening into home problems. The person and his family can be shadowed. A month is favorable for meditation, withdrawal into oneself, pondering deep problems, for self-knowledge, occult practices, removal of black magic effects.
12 house of the lunar in the homes of the natal horoscope
Comments: