Lunar horoscope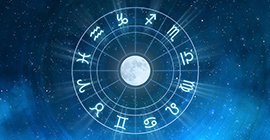 A lunar horoscope is a map compiled at the time when the transit moon returns to the position it occupied at the moment of the birth of the person (native). Lunar return is repeated approximately every 27 days and 8 hours - this is the sidereal cycle of the Moon. This horoscope is calculated using the coordinates of the place in which the person was or plans to be. In the case of moving and finding at this time in another locality, it is necessary to recalculate the lunar for new coordinates.
The lunar horoscope is a kind of matrix that preserves the tendencies laid at the time of the lunar return, during the coming lunar month.
Select the date, time and place birth:
12 house of the lunar v 6 home of the natal horoscope
Most often associated with grief at work, leaving the duty station, with disappointment in his activity or official position. The need to perform unloved work. Co-workers do not understand and can slander, become enemies. Often points to illegal activities, scams at work, use of official position. This month it is difficult to expect high labor productivity from a person. It is possible to become addicted, helpless. It is also possible to acquire a secret place of service or work in solitude. With positive indicators of the house - to sit up their enemies at work, gaining an independent position in the service. Deterioration of health, feelings, trouble. When confirmed by other indicators, the disease can go to a chronic stage. Fears and hypochondria. The month is favorable for treatment with non-traditional methods, removal of spoilage, reorganization of the body, as well as for spiritual practice, asceticism, use of diets, gymnastics, departure to the resort.
12 house of the lunar in the homes of the natal horoscope
Comments: