Lunar horoscope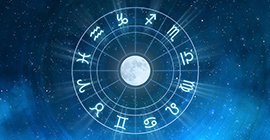 A lunar horoscope is a map compiled at the time when the transit moon returns to the position it occupied at the moment of the birth of the person (native). Lunar return is repeated approximately every 27 days and 8 hours - this is the sidereal cycle of the Moon. This horoscope is calculated using the coordinates of the place in which the person was or plans to be. In the case of moving and finding at this time in another locality, it is necessary to recalculate the lunar for new coordinates.
The lunar horoscope is a kind of matrix that preserves the tendencies laid at the time of the lunar return, during the coming lunar month.
Select the date, time and place birth:
12 house of the lunar v 10 home of the natal horoscope
The current goal, the cherished desire is unrealizable. Can indicate and in general the absence of any goals, "empty" month. A month is unfavorable for social advancement, career, professional growth. Insurmountable obstacles. Fear of taking a higher position. Informal leadership. Use of official position for secret purposes or disregard for the opportunity to use their power. Political differences, secret confrontation of power. To achieve their own goals, a person is forced to use roundabouts, secret influence, conspiracy, blackmail, help from ill-wishers of the authorities. Obligations and debts significantly complicate the situation of the person, hinder. Sometimes it can indicate the emigration of a superior, husband, parents (but more often to return) or a strong desire to emigrate. Also deep sorrow, fear of imprisonment, lack of freedom of action, forced submission. An autopsy of facts that are unpleasant to a person.
12 house of the lunar in the homes of the natal horoscope
Comments: