Lunar horoscope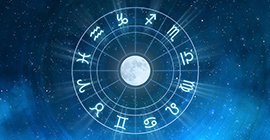 A lunar horoscope is a map compiled at the time when the transit moon returns to the position it occupied at the moment of the birth of the person (native). Lunar return is repeated approximately every 27 days and 8 hours - this is the sidereal cycle of the Moon. This horoscope is calculated using the coordinates of the place in which the person was or plans to be. In the case of moving and finding at this time in another locality, it is necessary to recalculate the lunar for new coordinates.
The lunar horoscope is a kind of matrix that preserves the tendencies laid at the time of the lunar return, during the coming lunar month.
Select the date, time and place birth:
12 house of the lunar v 2 home of the natal horoscope
The monetary opportunities decrease. Financial frustration and upheaval. Often because of the machinations of secret enemies, hidden structures, incomprehensible forces. In general, the material sphere of man is surrounded by a halo of deceptions and secrets. Man does not seem to feel a solid foundation, the soil under his feet, uncertain, confused, angry. It is easy to tempt him into a fraud, fraud, to engage in the activities of an underground business. Seduction, fears associated with money. A tendency to steal may appear. Health status may worsen and worsen, energy exchange in the body is difficult. With favorable indicators of the house - successful secret deals, success in veiled activity. The period is favorable for practicing yoga, improving gymnastics, for accumulating energy reserves, using hidden reserves of the body.
12 house of the lunar in the homes of the natal horoscope
Comments: