Lunar horoscope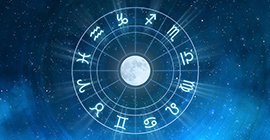 A lunar horoscope is a map compiled at the time when the transit moon returns to the position it occupied at the moment of the birth of the person (native). Lunar return is repeated approximately every 27 days and 8 hours - this is the sidereal cycle of the Moon. This horoscope is calculated using the coordinates of the place in which the person was or plans to be. In the case of moving and finding at this time in another locality, it is necessary to recalculate the lunar for new coordinates.
The lunar horoscope is a kind of matrix that preserves the tendencies laid at the time of the lunar return, during the coming lunar month.
Select the date, time and place birth:
12 house of the lunar v 3 home of the natal horoscope
Secret meetings and meetings, veiled contacts and contacts, mysterious campaigns and incomprehensible even for the person himself troubles and worries. Receiving anonymous letters or hidden correspondence. Obtaining secret information, gossip. Secret learning or teaching occult disciplines. Interference in study, difficulty in mastering the material, problems with the expression of one's own thoughts. Often means prohibition over correspondence, literary, journalistic, intermediary and commercial activities, signing of important documents. All this can bring trouble and disappointment. Unhappy news can be received by mail, from a conversation. Often close friends, friends, brothers or sisters bring grief. Mutual grievances. Risk of accident when moving. Month, when a person creates an illusion of communication, a misconception about friendly relations. The situation is favorable for secrecy, underground activity. Scriptures on occult subjects, with defeat - graphomania.
12 house of the lunar in the homes of the natal horoscope
Comments: