Lunar horoscope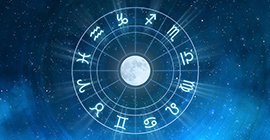 A lunar horoscope is a map compiled at the time when the transit moon returns to the position it occupied at the moment of the birth of the person (native). Lunar return is repeated approximately every 27 days and 8 hours - this is the sidereal cycle of the Moon. This horoscope is calculated using the coordinates of the place in which the person was or plans to be. In the case of moving and finding at this time in another locality, it is necessary to recalculate the lunar for new coordinates.
The lunar horoscope is a kind of matrix that preserves the tendencies laid at the time of the lunar return, during the coming lunar month.
Select the date, time and place birth:
12 house of the lunar v 5 home of the natal horoscope
Secret love affair. A person is generally inclined to hide his feelings and sympathies. Perhaps the dissolution of a love affair, an experience because of love. Strong dependence on love and pleasure. With negative indicators at home, blackmail on the part of the lover or because of him is possible. Propensity to scams, financial adventures, dark deeds, dishonest game. For a woman, the month is unfavorable for conception and childbirth. Can indicate a miscarriage, a severe pregnancy. Or, if the indicators of the 5th house of the radix confirm this, the child born this month will bring disappointments and sorrows. Perhaps the appearance of an illegitimate child in a man. Grief for children, trouble for them, disappointment. The position encourages participation in the activities of secret organizations, circles, and boxes. The month is favorable for self-disclosure, creative occult work, and also for the acquisition of a secret patron, patron of art.
12 house of the lunar in the homes of the natal horoscope
Comments: