Lunar horoscope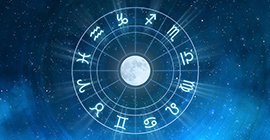 A lunar horoscope is a map compiled at the time when the transit moon returns to the position it occupied at the moment of the birth of the person (native). Lunar return is repeated approximately every 27 days and 8 hours - this is the sidereal cycle of the Moon. This horoscope is calculated using the coordinates of the place in which the person was or plans to be. In the case of moving and finding at this time in another locality, it is necessary to recalculate the lunar for new coordinates.
The lunar horoscope is a kind of matrix that preserves the tendencies laid at the time of the lunar return, during the coming lunar month.
Select the date, time and place birth:
12 house of the lunar v 1 home of the natal horoscope
Occurrence of a secret connection or the beginning of some kind of underground activity. During this period, a person has something to hide and work on, to think about in seclusion. Of great importance are subconscious moments, implicit motives of behavior. A month is favorable for dreams and development of the occult, for spiritual practices, the taking of vows, schema. A month when many karmic ties are revealed. Debt payment by and large. There are negative events and actions committed in the past. Old emotional wounds are reminiscent of themselves. The period is fraught with disappointment, mental trauma, grief in the universal and emotional sense. Many cares, dissatisfaction with themselves, detachment from ordinary cares. Illusions, mistakes, alcohol or drug addiction. The severity of these processes can be judged by the aspect of the elements of the house. May signify the end of a certain life cycle, preparation for the beginning of a new life.
12 house of the lunar in the homes of the natal horoscope
Comments: