Lunar horoscope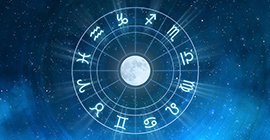 A lunar horoscope is a map compiled at the time when the transit moon returns to the position it occupied at the moment of the birth of the person (native). Lunar return is repeated approximately every 27 days and 8 hours - this is the sidereal cycle of the Moon. This horoscope is calculated using the coordinates of the place in which the person was or plans to be. In the case of moving and finding at this time in another locality, it is necessary to recalculate the lunar for new coordinates.
The lunar horoscope is a kind of matrix that preserves the tendencies laid at the time of the lunar return, during the coming lunar month.
Select the date, time and place birth:
2 house of the lunar v 1 home of the natal horoscope
The material problems of man are coming to the forefront this month. And he can solve them only through his own efforts and initiatives. Wait for help from outside. If the remaining directions of the 2nd house of the lunar are negative, personal freedom of a person and the ability to implement plans may be limited due to unsatisfactory material circumstances, excessive immersion in monetary problems.
2 house of the lunar in the homes of the natal horoscope
Comments: