Lunar horoscope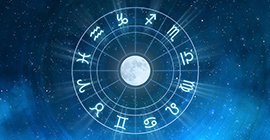 A lunar horoscope is a map compiled at the time when the transit moon returns to the position it occupied at the moment of the birth of the person (native). Lunar return is repeated approximately every 27 days and 8 hours - this is the sidereal cycle of the Moon. This horoscope is calculated using the coordinates of the place in which the person was or plans to be. In the case of moving and finding at this time in another locality, it is necessary to recalculate the lunar for new coordinates.
The lunar horoscope is a kind of matrix that preserves the tendencies laid at the time of the lunar return, during the coming lunar month.
Select the date, time and place birth:
2 house of the lunar v 10 home of the natal horoscope
The main event of the month will be related to the material sphere, earnings, income. This position provides rich prospects for expanding its financial influence, the opportunity to improve the basis of its existence. In addition, the public status of a person, professional status will require new expenses from him, for which funds are needed. A month is favorable for obtaining loans, loans, subsidies. Planned financial accomplishments with favorable indicators of the second house will be realized, possibly, not without the help of higher, patrons.
2 house of the lunar in the homes of the natal horoscope
Comments: