Lunar horoscope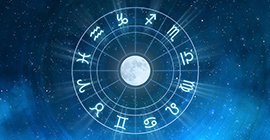 A lunar horoscope is a map compiled at the time when the transit moon returns to the position it occupied at the moment of the birth of the person (native). Lunar return is repeated approximately every 27 days and 8 hours - this is the sidereal cycle of the Moon. This horoscope is calculated using the coordinates of the place in which the person was or plans to be. In the case of moving and finding at this time in another locality, it is necessary to recalculate the lunar for new coordinates.
The lunar horoscope is a kind of matrix that preserves the tendencies laid at the time of the lunar return, during the coming lunar month.
Select the date, time and place birth:
2 house of the lunar v 11 home of the natal horoscope
This month the person brings a new ideological basis, as to the financial sphere of his life, rethinks the ways of making money and spending. Perhaps the bulk of the costs go to the needs of a friendly environment, like-minded people and fans. And vice versa, you can expect serious financial support from them. The position also indicates that financial problems are discussed in a friendly circle. Often means the possibility of gratuitously receiving money from other people, from charitable foundations, public organizations and living on these means. This month, a person is actively outlining plans for how to earn and spend money. Already this month, these aspirations of a person can come true. With the unfavorable indicators of the second house can mean that most of the money is spent on a fun life, the fulfillment of fleeting desires, on the fans.
2 house of the lunar in the homes of the natal horoscope
Comments: