Lunar horoscope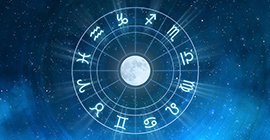 A lunar horoscope is a map compiled at the time when the transit moon returns to the position it occupied at the moment of the birth of the person (native). Lunar return is repeated approximately every 27 days and 8 hours - this is the sidereal cycle of the Moon. This horoscope is calculated using the coordinates of the place in which the person was or plans to be. In the case of moving and finding at this time in another locality, it is necessary to recalculate the lunar for new coordinates.
The lunar horoscope is a kind of matrix that preserves the tendencies laid at the time of the lunar return, during the coming lunar month.
Select the date, time and place birth:
2 house of the lunar v 7 home of the natal horoscope
Working in the mind, with the public, in one team with partners brings both profit and popularity in the community. A month is successful for working under a contract, accepting contractual obligations, close contact with partners, including with a spouse. Collective activity always brings success, support for partners. Depending on the indicators of the 2nd house, the influence of the spouse or partners on the finances of the person will be either favorable or unfavorable. With a combination of negative indicators, the spouse (spouse) can begin the process of dividing funds, assigning alimony, and keeping the money. In this case, there is also a breakdown of relations with business partners, bringing losses. It is necessary to be afraid from their side of deceit, incompetent actions.
2 house of the lunar in the homes of the natal horoscope
Comments: