Lunar horoscope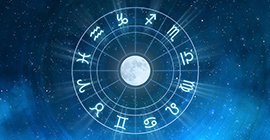 A lunar horoscope is a map compiled at the time when the transit moon returns to the position it occupied at the moment of the birth of the person (native). Lunar return is repeated approximately every 27 days and 8 hours - this is the sidereal cycle of the Moon. This horoscope is calculated using the coordinates of the place in which the person was or plans to be. In the case of moving and finding at this time in another locality, it is necessary to recalculate the lunar for new coordinates.
The lunar horoscope is a kind of matrix that preserves the tendencies laid at the time of the lunar return, during the coming lunar month.
Select the date, time and place birth:
2 house of the lunar v 3 home of the natal horoscope
Money problems a person can solve at the expense of the start of training (scholarships), travel and relocation, the conclusion of contracts or with the support of close relatives. Intellectual training also brings profit. Also, and vice versa, an indication of paid training. Earnings are not permanent, they can not be planned. Also, personal budget can not be distributed. Often stupid small expenses on the background of scanty income. Money can come by mail (transfers, subscriptions). It creates a feeling of instability in the financial situation, a house of cards, when at any moment you can suffer losses or, conversely, get a certain amount. Often the solution of material issues depends on the cunning, resourcefulness of the person in the money field. A month is favorable for the purchase of vehicles and communications.
2 house of the lunar in the homes of the natal horoscope
Comments: