Lunar horoscope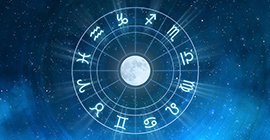 A lunar horoscope is a map compiled at the time when the transit moon returns to the position it occupied at the moment of the birth of the person (native). Lunar return is repeated approximately every 27 days and 8 hours - this is the sidereal cycle of the Moon. This horoscope is calculated using the coordinates of the place in which the person was or plans to be. In the case of moving and finding at this time in another locality, it is necessary to recalculate the lunar for new coordinates.
The lunar horoscope is a kind of matrix that preserves the tendencies laid at the time of the lunar return, during the coming lunar month.
Select the date, time and place birth:
2 house of the lunar v 9 home of the natal horoscope
The way of earning and earning income is often connected with foreign citizens and organizations, depends on the interaction with them. Also associated with travel. Cash amounts can come from afar. A person lives at the expense of the funds provided by joint ventures, or by interest from deposits in foreign banks. Profits also bring teaching, propaganda, missionary, and also literary activity. This can also become expense, waste, if the indicators of the 2nd house are negative. Certain financial care is required by elderly relatives and parents of the spouse. Often there is a reassessment of values ​​and a comprehension of further financial prospects.
2 house of the lunar in the homes of the natal horoscope
Comments: