Lunar horoscope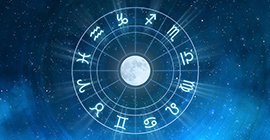 A lunar horoscope is a map compiled at the time when the transit moon returns to the position it occupied at the moment of the birth of the person (native). Lunar return is repeated approximately every 27 days and 8 hours - this is the sidereal cycle of the Moon. This horoscope is calculated using the coordinates of the place in which the person was or plans to be. In the case of moving and finding at this time in another locality, it is necessary to recalculate the lunar for new coordinates.
The lunar horoscope is a kind of matrix that preserves the tendencies laid at the time of the lunar return, during the coming lunar month.
Select the date, time and place birth:
2 house of the lunar v 12 home of the natal horoscope
It indicates first of all that the person is constrained in the means, and in this connection he is compelled to lead not exactly the kind of life that he wants. There may be money from mysterious sources, from secret activities, hidden well-wishers or as a result of unsuccessful machinations, on the contrary, secret enemies. Part of the funds can go to treatment, stay in a sanatorium, a hospital, and also to release from custody (on bail or with the help of a bribe). The situation can be difficult, complicated obligations and debts. Profitable lessons mystical practices, occult sciences, work in secret societies. In any case, the material side of existence will not be favorable for active undertakings this month.
2 house of the lunar in the homes of the natal horoscope
Comments: