Lunar horoscope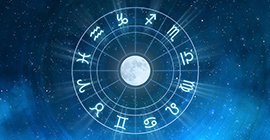 A lunar horoscope is a map compiled at the time when the transit moon returns to the position it occupied at the moment of the birth of the person (native). Lunar return is repeated approximately every 27 days and 8 hours - this is the sidereal cycle of the Moon. This horoscope is calculated using the coordinates of the place in which the person was or plans to be. In the case of moving and finding at this time in another locality, it is necessary to recalculate the lunar for new coordinates.
The lunar horoscope is a kind of matrix that preserves the tendencies laid at the time of the lunar return, during the coming lunar month.
Select the date, time and place birth:
2 house of the lunar v 6 home of the natal horoscope
For a person this month, financially, it is more advantageous to be in a subordinate position, and the manifestation of initiatives can lead to losses or unfavorable material circumstances. It is possible to start receiving money from work in the specialty or a new type of earnings due to changes in conditions or place of work. A month promises spending on one's health, buying medicines or staying in health-improving institutions. In general, the financial side is not as successful as it might be, so it's not necessary to build big plans for this month. With very negative indicators of the 2nd house, one can even fear a financial crisis.
2 house of the lunar in the homes of the natal horoscope
Comments: