Lunar horoscope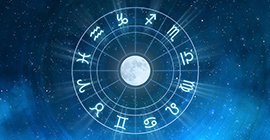 A lunar horoscope is a map compiled at the time when the transit moon returns to the position it occupied at the moment of the birth of the person (native). Lunar return is repeated approximately every 27 days and 8 hours - this is the sidereal cycle of the Moon. This horoscope is calculated using the coordinates of the place in which the person was or plans to be. In the case of moving and finding at this time in another locality, it is necessary to recalculate the lunar for new coordinates.
The lunar horoscope is a kind of matrix that preserves the tendencies laid at the time of the lunar return, during the coming lunar month.
Select the date, time and place birth:
2 house of the lunar v 4 home of the natal horoscope
Presents certain spending on the acquisition or hiring of real estate. A month is favorable for the purchase of an apartment, plot, and also to enter into the ownership of the estate (real estate and capital). Apartment and property issues significantly redistribute the budget. Often during this period a person changes his place of work and, accordingly, loses the former way of earning. Parents and their family or the family of the person himself claims for his money, actively influences expenses, demands expenses. Sometimes, on the contrary, the solution of financial problems is possible with the assistance of domestic workers. Can indicate that a person finds a place of residence, which gives him a guarantee of safety, security, independence, financially separated from the family.
2 house of the lunar in the homes of the natal horoscope
Comments: