Lunar horoscope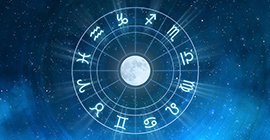 A lunar horoscope is a map compiled at the time when the transit moon returns to the position it occupied at the moment of the birth of the person (native). Lunar return is repeated approximately every 27 days and 8 hours - this is the sidereal cycle of the Moon. This horoscope is calculated using the coordinates of the place in which the person was or plans to be. In the case of moving and finding at this time in another locality, it is necessary to recalculate the lunar for new coordinates.
The lunar horoscope is a kind of matrix that preserves the tendencies laid at the time of the lunar return, during the coming lunar month.
Select the date, time and place birth:
♃ Jupiter in 1 home of the lunar horoscope
The aspiration and opportunities for creative self-realization of a person are increasing. The direction of the person's actions will indicate the aspects of Jupiter in other houses of the solarol. For example, aspects in the 3rd house will indicate the expansion of activities through the signing of important papers and various contacts, etc. Optimism, cordiality. In human life there is a noticeable appearance of rich prospects, opportunities for revealing his creative potential are expanding. Can indicate a happy break in life, corresponds to the beginning of a new period. Also points to the favorable changes in the sphere of affairs of the house, which Jupiter controls in the solarium. Promises every help and patronage. Perhaps the establishment of a person's own enterprise, organization, their legal registration, appeals to the legal and legislative bodies on another matter. In the negative aspect - diseases (especially if Jupiter controls the 8th house in the solar house), the difficulties associated with the realization of the conceived, excesses and the related troubles (excess weight), projecting.
♃ Jupiter in the houses of the lunar horoscope
Comments: