Lunar horoscope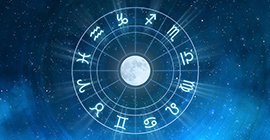 A lunar horoscope is a map compiled at the time when the transit moon returns to the position it occupied at the moment of the birth of the person (native). Lunar return is repeated approximately every 27 days and 8 hours - this is the sidereal cycle of the Moon. This horoscope is calculated using the coordinates of the place in which the person was or plans to be. In the case of moving and finding at this time in another locality, it is necessary to recalculate the lunar for new coordinates.
The lunar horoscope is a kind of matrix that preserves the tendencies laid at the time of the lunar return, during the coming lunar month.
Select the date, time and place birth:
♃ Jupiter in 8 home of the lunar horoscope
Gives a sharp change in life, often full of life reorientation. Changes in the occult vision of the world. Changing sexual partners, increasing the number of connections or parting, a complete break in the relationship, depending on the aspects. Most of the person's expenses are covered from other people's money, usually from the money of sexual partners, as well as the spouse and business partners. Life at someone else's expense. The extremely favorable aspect of Jupiter can indicate the receipt of a large sum - dividends, inheritance, compensation of damages, repayment of debt. Large purchases, if it falls, for example, in the 2nd or 4th natal house. In the 5th - gifts, in the 7th, 10th or 11th - financial support from partners or spouse, from the chief and official bodies, from friends respectively. Sometimes it means death in the distant environment of a person. With the defeat of Jupiter it gives difficulties in mastering large sums, trouble with financial and audit organizations (taxes, duties). Increase in debts and other financial liabilities and arrears. Possibility of disease by the sign of the Zodiac of Jupiter in the solarium.
♃ Jupiter in the houses of the lunar horoscope
Comments: