Lunar horoscope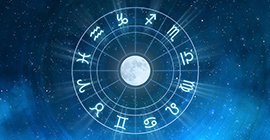 A lunar horoscope is a map compiled at the time when the transit moon returns to the position it occupied at the moment of the birth of the person (native). Lunar return is repeated approximately every 27 days and 8 hours - this is the sidereal cycle of the Moon. This horoscope is calculated using the coordinates of the place in which the person was or plans to be. In the case of moving and finding at this time in another locality, it is necessary to recalculate the lunar for new coordinates.
The lunar horoscope is a kind of matrix that preserves the tendencies laid at the time of the lunar return, during the coming lunar month.
Select the date, time and place birth:
♃ Jupiter in 9 home of the lunar horoscope
Strengthening and expansion of ties of various kinds with foreign countries: with foreign and nonresident citizens, organizations and enterprises. With the defeat of Jupiter - dependence on them. The emergence of great prospects for expanding its influence. Significantly strengthens the reputation and respect for people. Successful solution of legal problems and profit from them. Expansion in all areas related to intellectual and academic activities - teaching, training, propaganda and agitation, literary and, especially, publishing, science and research of any kind, lawyer practice. Charity, patronage, altruistic and philanthropic inclinations, business ties. Increased interest in the cultural life of other peoples, as well as issues of philosophy, religion, spiritual life. Can indicate the year of the beginning of the receipt of a second education, a variety of knowledge, continuing education. Awakening of intellectual abilities. If there are aspects in the 3rd, 4th, 7th and 10th houses or imposing on these natal houses - the creation of joint ventures, in the 2nd, 5th or 8th - placement of capital abroad, deposits , investment. Striving for travel and travel, studying hitherto unknown. Jupiter's defeat by negative aspects calls for caution and prudence in dealing with justice, morality, monetary obligations and issuing surety documents. Also in travel, travel and connections with foreign countries, as all these cases can bring trouble. False ambitions, deceptive vision of prospects, excessive belief in one's own strength, short-sightedness.
♃ Jupiter in the houses of the lunar horoscope
Comments: