Lunar horoscope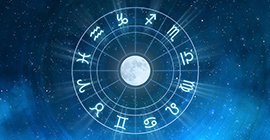 A lunar horoscope is a map compiled at the time when the transit moon returns to the position it occupied at the moment of the birth of the person (native). Lunar return is repeated approximately every 27 days and 8 hours - this is the sidereal cycle of the Moon. This horoscope is calculated using the coordinates of the place in which the person was or plans to be. In the case of moving and finding at this time in another locality, it is necessary to recalculate the lunar for new coordinates.
The lunar horoscope is a kind of matrix that preserves the tendencies laid at the time of the lunar return, during the coming lunar month.
Select the date, time and place birth:
♃ Jupiter in 3 home of the lunar horoscope
Indicates an increase in communication skills, various connections and acquaintances. The importance of teaching, as well as writing, intellectual activity, intermediary functions, papers and documents is growing. Study of religion, philosophy, literature and culture of other peoples. Translation, teaching. Man's brothers and sisters can play a significant role this year. Maybe the birth of a brother or sister. Many trips, travel and hassle, everyday worries, anxiety. Brings profitable agreements, interesting proposals and help from the environment. However, with a certain position and aspects of Jupiter, the situation is reversed. These exceptions are, for example, the projection of Jupiter on the 12th natal house and the opposition to the planet in the 9th house. In these cases, the person, on the contrary, supports only a minimum of necessary contacts, tends to be introverted and is limited to movements in the zone of permanent residence. When Jupiter is defeated by negative aspects - problems with the bodies of justice and law and order, can indicate the beginning of the process, difficulties with the family budget, travel troubles.
♃ Jupiter in the houses of the lunar horoscope
Comments: