Lunar horoscope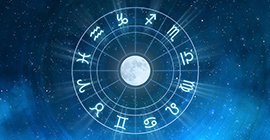 A lunar horoscope is a map compiled at the time when the transit moon returns to the position it occupied at the moment of the birth of the person (native). Lunar return is repeated approximately every 27 days and 8 hours - this is the sidereal cycle of the Moon. This horoscope is calculated using the coordinates of the place in which the person was or plans to be. In the case of moving and finding at this time in another locality, it is necessary to recalculate the lunar for new coordinates.
The lunar horoscope is a kind of matrix that preserves the tendencies laid at the time of the lunar return, during the coming lunar month.
Select the date, time and place birth:
♃ Jupiter in 12 home of the lunar horoscope
The appearance in the life of man of many mysteries. Participation in hidden or clandestine activities, a propensity for a solitary lifestyle, a tendency to loneliness. Often - a year of increased internal work, activation of the subconscious and the promotion of problems of spiritual growth. Sometimes the disclosure of some talents and inclinations. Disarming of secret enemies, slanderers and blackmailers, is easy and natural. This position serves as a kind of magical defense against the forces of evil. When Jupiter is defeated by negative aspects - the desire to emigrate, the rupture of old ties. The machinations of secret enemies, their activation. Losses and troubles because of them. The year is generally remembered by grief and disappointment, especially in the affairs of that house, which Jupiter rules in the solarium. Soreness.
♃ Jupiter in the houses of the lunar horoscope
Comments: