Lunar horoscope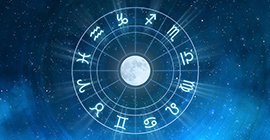 A lunar horoscope is a map compiled at the time when the transit moon returns to the position it occupied at the moment of the birth of the person (native). Lunar return is repeated approximately every 27 days and 8 hours - this is the sidereal cycle of the Moon. This horoscope is calculated using the coordinates of the place in which the person was or plans to be. In the case of moving and finding at this time in another locality, it is necessary to recalculate the lunar for new coordinates.
The lunar horoscope is a kind of matrix that preserves the tendencies laid at the time of the lunar return, during the coming lunar month.
Select the date, time and place birth:
♃ Jupiter in 11 home of the lunar horoscope
The happy realization of many plans, especially in matters indicated by the projection of Jupiter and the 11th house in the natal house and the house run by Jupiter in the solarium. Building plans for the future and preparatory work for their implementation. Consideration of the ideological platform of your future, the next years. Expansion of the friendly environment and connections, finding sympathy and support, fouling by fans and like-minded people. New friendships. Friendship can develop into an intimate relationship. Help friends and associates, financial support, profit from them. Increase in the number of various personal contacts with independent partners. Receiving funds for the implementation of plans and claims. Propensity to communicate with the masses - propaganda and agitation, advertising, politics, sociological research. Often means joining a society, a party, a circle, an independent or professional grouping, or a sect, a commune, a gang - with the defeat of Jupiter. Participation in the activities of humanistic, peacekeeping, environmental organizations. The negative aspect of Jupiter (especially with Saturn) hinders the accomplishment and implementation of plans, makes friends and admirers a hindrance in their implementation, gives conflicts with friends and a tendency to excessive pleasures, perversions, erroneous calculation for support.
♃ Jupiter in the houses of the lunar horoscope
Comments: