Lunar horoscope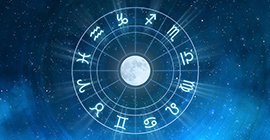 A lunar horoscope is a map compiled at the time when the transit moon returns to the position it occupied at the moment of the birth of the person (native). Lunar return is repeated approximately every 27 days and 8 hours - this is the sidereal cycle of the Moon. This horoscope is calculated using the coordinates of the place in which the person was or plans to be. In the case of moving and finding at this time in another locality, it is necessary to recalculate the lunar for new coordinates.
The lunar horoscope is a kind of matrix that preserves the tendencies laid at the time of the lunar return, during the coming lunar month.
Select the date, time and place birth:
♃ Jupiter in 4 home of the lunar horoscope
The events containing the idea of ​​expansion and the emergence of prospects are related to the affairs of the person's house and family. Depending on the natal house on which Jupiter is designed, it can be a significant profit as a result of property transactions or, conversely, the acquisition of real estate, including abroad, increasing domestic concerns and responsibilities or working at home, adding to the family or many guests, love dates in the house, etc. Often indicates the acquisition of another temporary housing, residence, the establishment of a second family. Rights and personal interests of a person in the family will be taken into account. Help of parents or other relatives. You can hope for a loan for building, buying a plot of land, a loan for repairs. Favorably solved problems of real estate acquisition, especially for family businesses. A good position for obtaining a large crop on farmland. Indicates a successful end of the year, if Jupiter is not struck. The year is favorable for the study of family traditions and genealogy, as well as philosophy, religion, history and occultism. Affected by negative aspects, Jupiter does not provide such bright prospects in all these issues and areas of life, entails difficulties and troubles with real estate, residence, property and family problems.
♃ Jupiter in the houses of the lunar horoscope
Comments: